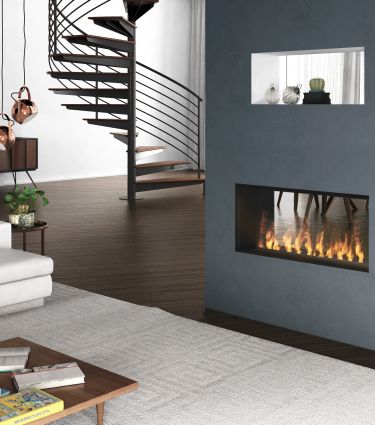 Stunning Electric Fires
Burning wood and heating with gas isn't for everyone. Electric fireplaces are an easy alternative and perfect for instantly creating the warming aura of a real fire in your living space – a place where your family can retreat and unwind.
Easy installation
Electric fireplaces don't require a flue, which means they can be fitted anywhere in your home.
Flexible size options
Depending on your space, modular electric fireplace units allow you to create large and small fireplaces.
Responsive heating control
Remote-control capability means you can easily and instantly adjust your heating output to suit the seasons.
Visually unique
Modern flame effect technology and multiple colour schemes make electric fires a unique focal point in any home.
Our Top Pick: Vivente
The clever design enables the choice of creating a 1, 2, or 3-sided configuration when the product is being installed, while anti-reflective glass avoids unwanted reflections impacting upon the stunning flame effect. It is this Revillusion flame effect that truly sets Vivente apart – by removing the central mirror seen in traditional electric fires, Revillusion increases the visible depth of the firebox and allows the firebox lining to be changed to suit your interior design theme
Talk to us about our Electric Fire range today
We're here to help and answer any questions you may have.