Introducing the NEW Blaze Woodstacker Fireplaces 
2 min read
​​​​​​​If you want to warm up your home from the cooler chills and make your cosy fireside dream a reality, then look no further than Blaze: Australia's first choice for stylish, high-quality wood heaters.
Their freestanding fireplaces add character to your home in winter (or slightly cooler summers, even if they're few and far between in Australia)  thanks to their eye-catching flame displays which radiate warmth.
Their two brand new heaters are definitely no different. The B400 Woodstacker Portrait and B700 Woodstacker Landscape fireplaces are the newest additions to their contemporary wood heating range and they're designed to fit anywhere in modern Australian homes. Each one is built to the highest standards to make sure they'll last and last, even through harsh winters. They're both similar in the way they work but, as you can probably tell from their names, one is taller and thinner (portrait) and the other is shorter and wider (landscape) so you can choose whichever one best fits the aesthetics of your home.
Both models feature a "floating" outer skin which means that you don't need to worry about having a huge chimney or flue in your home and you can place them anywhere that has space for it. They also have the signature Blaze stainless steel handle, which offsets the matte black design for a sleek finish. 
These modern fireplaces are crafted with convenience in mind. They have wood storage underneath so that you don't have to keep heading outside or to another room to keep the embers burning. Also, don't let their small size fool you; their heat output is extremely powerful and can even heat open-plan spaces. This is further enhanced by a handy 3-speed remote control fan, meaning that you can turn up the heat without even getting up from the sofa. Now that's comfort.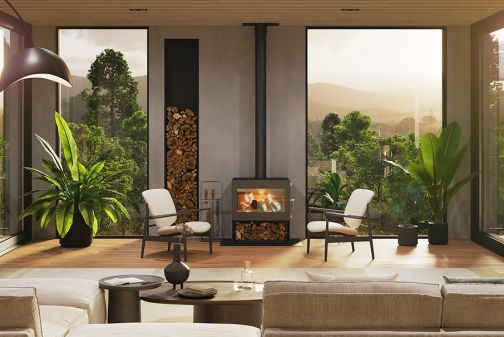 Blaze B700
The large viewing windows on both the Portrait and Landscape models will allow for complete and stunning views of the flames from wherever you are, meaning that guests will have their breath taken away as soon as they step through the room. Designed and developed in Australia, the B400 and B700 are built for durability. Don't believe us? Each one has a 10-year firebox warranty for your peace of mind. Not that we think you'll need it.
Blaze's unrivalled knowledge and industry expertise means that each fireplace is innovative in technology and contemporary in design. They use modern materials and each one has unique features which will add value, depth and warmth to your living space.
If you want to see, feel and experience the magic of the Blaze B400 and B700 in person then come and visit us at our Richmond, Miranda or our flagship studio in Alexandria. If they're not located near you, then you can visit our virtual studios to view our full collection of fires from the comfort of your home.