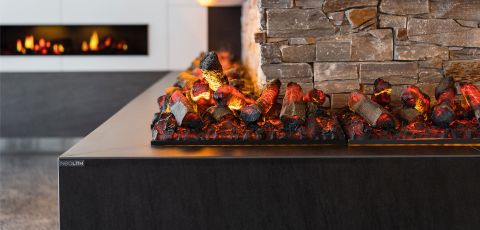 The Ignite Fireplace Studio x Neolith Collaboration
2 min read
At Ignite Fireplace Studios, we believe that the breathtaking range of fireplaces that we have on display deserve the very best setting, so that you can picture how incredible they'll eventually look in your home or space.
So of course, with the opening of our brand new flagship showroom in Alexandria, Sydney, we wanted to create a gorgeous space where the fireplaces could shine. Here, we go into the inspiration behind the interior design of the beautiful studio.
The showroom began with two premium brands coming together in one space: us (obviously) and Neolith, a premium leading stone brand who pioneers in Sintered stone. Combining gorgeous Sintered stone with incredible performance to create a scratch, stain and heat-resistant surface.
The collaboration was a no brainer. Fire and stone products have worked superbly together for centuries (think about it: fire and stone make proper Italian pizza!) so we felt that it was only natural to collaborate with a leading Sintered stone brand like Neolith to showcase our electric and gas fireplaces in our studio in Alexandria.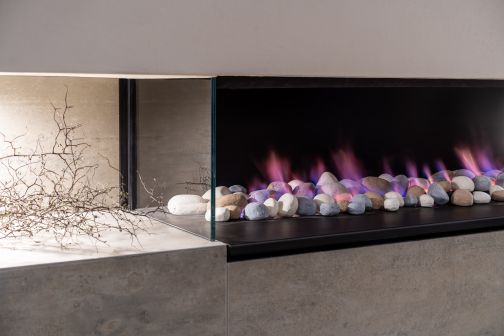 The fireplace is truly the heart of the home and historically, all wood burning fireplaces would need a hearth (a non-combustible stone that protects the floor) leading many businesses to play on this idea by referencing the "hearth of the home". Pun-derful.
The combination of fire elements and stone materials has lead to the creation of a breathtaking studio that combines architectural Sintered stone slabs and our stunning range of fireplaces in one beautiful space.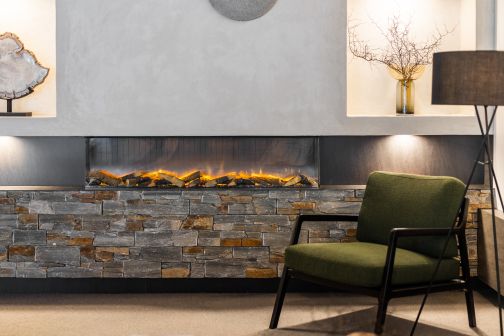 The options and finishes are extensive in the showroom and elevate the design to a higher level and the size of the slabs available through Neolith demonstrate a natural stone finish using Sintered stone on full-length walls and plinths with minimum joins. You're bound to be blown away as soon as you step through the door… Because after all, these fireplaces deserve to be showcased in a way that really shows off how impressive they are.
If you want to see it for yourself, then come and visit us at 652 Botany Road, Alexandria 2015 NSW. It's our biggest and best showroom yet, so no matter your home interior design style or the size of the space you're working with, we'll help you find what you're looking for. The knowledgeable team at Alexandria will be there to help you every step of the way in making your decision, so you can feel complete confidence in your choice.