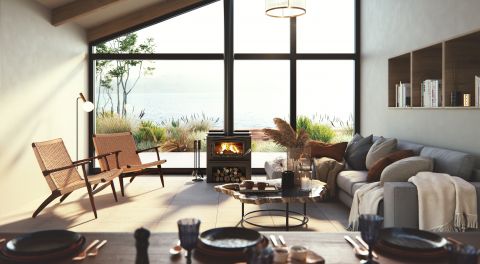 How to match our fireplaces with your interior design style
3 min read
The wonderful thing about fireplaces (or one of many!) is that they fit seamlessly and stylishly into every home, no matter the interior design or style you've chosen to go for.

With more people working from home, you'll be wanting to bring comfort and creativity to your living space and a fireplace can be the perfect way to do just that. However, we also know that it can be difficult to get the perfect match - especially when we've got so many incredible fireplaces to choose from. That's why we've put together this handy guide to help you decide which fireplace would work best to elevate your home depending on your interior design style.
Grand Millenial Style
This is a modern take on granny-chic design and is the opposite of minimalism. Think cosy details, vintage furniture and reclaimed accessories that might not be out of place in Nonna's house but with an elegance and style that means they still look at home in a 2021 living space. 
For this style of home, we'd recommend the Nectre N15. It will add some wood fire magic and charm with a remarkably small carbon footprint to become the charming centrepiece of your home. It's beautifully compact in size but impressive in its flame effect and will work perfectly in your grandmillenial living space!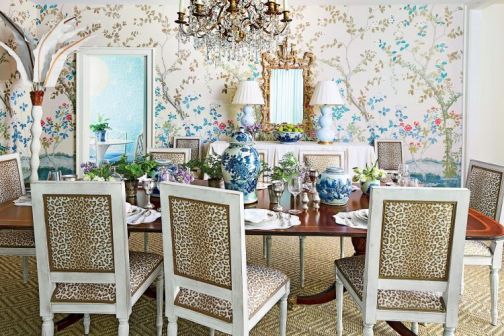 Image credit: www.hadleycourt.com
Coastal/Nautical 
The name says it all. This interior design is all about the casual beachy atmosphere that makes you feel like you're on holiday every day. Think a lot of white-washed wood, blue accessories and loads of white for the sunshine to bounce off and make every room seem brighter.
To match a nautical themed home, the Real Flame Simplicity Fireplace will add style and sophistication whilst the pebble themed media option is reminiscent of a pebble beach. It's the perfect place to unwind and warm up after a long day in the sea.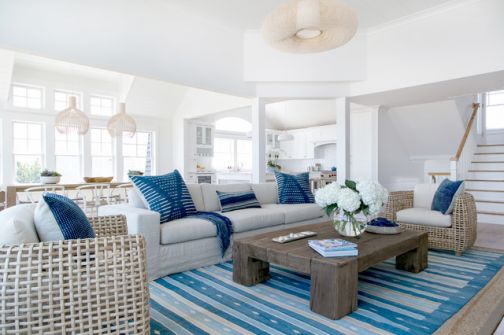 Image credit: Houzz
Farmhouse
Farmhouse decor combines a modern approach with a cabin-inspired design. A farmhouse aesthetic should make you feel like you're in the French Provence, with dark wood furniture, a light colour palette and perhaps a few pops of colour for some vibrancy.
To stick with the cabin-inspired design, the Blaze B600 with wood storage will add a rustic feel to your living space and with modern design and robust look, it's sure to be an eye-catcher in the room.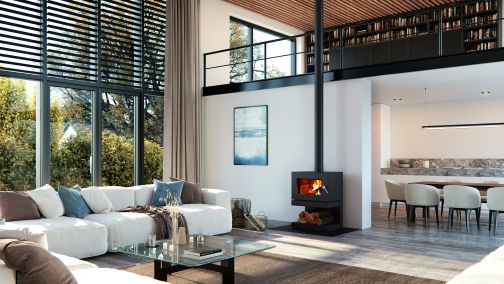 Scandinavian
As you might expect, Scandinavian interior design is very much nordic in its roots. It's pares everything back, with minimal colour and very simplistic accessories - if colours are used, they're usually soft pastels. It's both clean and versatile with functional features...
… which is exactly where the NOBO panel heater comes in. It's also Scandinavian in style, with a timeless design, super clean lines and user-friendly functionality. If you want to heat your home without any visual clutter, completely blending in against your wall - so much that you might not even notice it!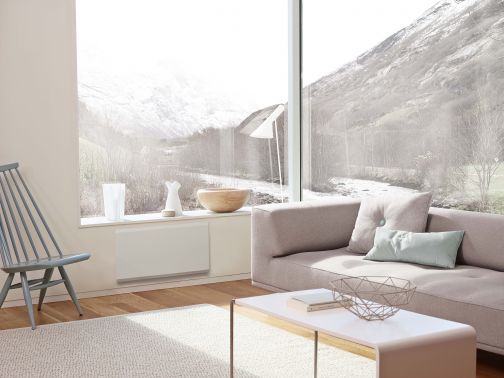 Urban Modern
Taking inspiration from lofts and upscale apartments in major cities, modern urban is as you'd expect - exposed brick walls, glamorous accessories, wooden floors, vibrant rugs and feature walls of artwork. 
To match this super modern feel, the Real Flame Ignite XL has Edge-to-edge glass for a flawless panoramic view of the dazzling flames from any angle. Plus, there's no chimney or gas line required, making it perfect for modern high-rise installations.
If you're still not sure which to go for, then visit us at Richmond, Miranda or our flagship store in Alexandria and our knowledgeable and friendly team will be more than happy to help you.